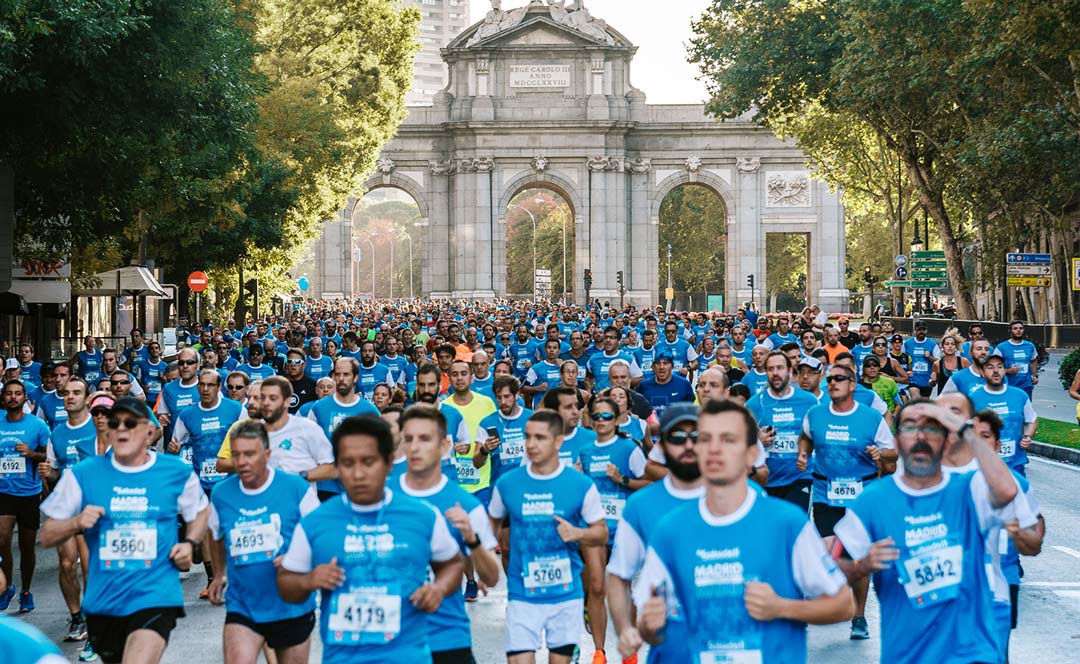 Madrid's awe-inspiring history and happening present make it an ideal city for sight running. Head to El Retiro Park downtown any time of the day to see the city's enthusiasm for running. And this is only the tip of the Iceberg. Madrid abounds with green spaces to train for amateur and elite runners alike.
I've picked Madrid's top running races below. If you plan your visit during any of these races, it would be a perfect opportunity to explore the city while participating in the event and meeting other passionate runners.
Date: 23 April 2023
Distance: Full/Half Marathon
Also known as Madrid Marathon, this is Madrid's biggest race of the year. Usually, it takes place every year in Spring when the weather is just perfect for city running. But due to the pandemic, the Madrid marathon is scheduled for later. The first race was held in 1978 and has IAAF Gold Label Road Race status. In recent years, a half marathon and 10km race have also been added, attracting even more people to the event.
The race passes through most of the popular sights such as the Royal Palace, Plaza Mayor and its two iconic parks, El Retiro and the Casa de Campo. It's, undoubtedly, a feast for the eyes.
The course is undulating, with around 10kms uphill. Much of it is towards the end of the race, meaning that not many records have been broken. But it's a wonderful course nonetheless. Whilst predominantly a local event, each year, the races are attracting more and more international guests that swell the streets of Madrid.
Date: 26 March 2023
Distance: Half Marathon
Movistar Half Marathon is Madrid's biggest half marathon and is another super course taking in the cities most emblematic barrios (neighbourhoods). The race has been taking place since 2007. It's a relatively new fixture in the running calendar but a welcome one with good international participation. There is also a Carrera ProFuturo 5km race on the day.
The terrain is slightly uphill up to the midpoint and then inclines slightly downhill for the second half. To the finish, it's a couple of straight 5km stretches without any turns. With time, Movistar Half Marathon is only going to grow in popularity.
Date: Various
Distance: 21Km
The tour starts and ends on Gran Vía in the heart of downtown. After a short run through Madrid's oldest neighbourhood, we'll cross the Manzanares River and enter into the Casa de Campo city park which was previously the hunting grounds of the Spanish Royal Family. A unique and very special experience in the heart of Madrid which will make you feel like you are deep in the countryside.
Date: TBA 2023
Distance: 10km
Mapoma is Madrid's most active running association and is the brains behind several road races throughout the year. These are all in support of healthcare organisations, NGOs, and other worthy causes. Of all of their races, the "Run for Madrid" race with all runners sporting their blue Mapoma shirts attracts the largest number of participants.
The race closes off the city centre and is a joy to run due to the top-notch attractions on the way. There is some elevation change, but the terrain is mostly flat and straight. It's excellent if you're interested in clocking up a 10km time to make your friends envious. This is my favourite fun yet serious race of the year where I recognise a lot of the faces I see on my city runs training throughout the year. Come join me next time around and see why I love it. You won't regret it!
Date: TBA 2023
Distance: 10km
Arguably the most popular road race in Madrid each year is the incomparable San Silvestre Vallecana. Since 1964, the race has attracted massive participation from Madrileños (locals of Madrid) with a passion unrivalled from other races in the city. This is clear by how quickly the race sells out each year, sometimes in a matter of hours.
The race begins at the Santiago Bernabeu stadium and finishes in Vallecas, a borough in the suburbs of Madrid. Around 40,000 pumped up runners of all shades and colours participate in this event. It has two editions – a fun run for amateur athletes and an elite race for professional athletes. The San Silvestre is one of only four 10km races in the world to hold the IAAF Gold Race Running label. This is as local a race as they come, so if you want to know and experience Madrid. Besides, a lot of fun and plenty of runners get into the Christmas spirit and even dress up to run.
San Silvestre Vallecana is a point to point race rather than a circuit. It starts from Downtown and finishes in Vallecas village, now absorbed by Madrid's urban sprawl. The race is also the only evening start to a race in Madrid, making it all the more fun. The course is hilly, especially towards the end and will make you work. But it's also an excellent way to finish the year and begin a new one.
Date: 7 May 2023
Distance: 6.3km
Carrera de la Mujer is the biggest women's sporting celebration in Madrid each year. This exciting event raises money for breast cancer charities throughout Spain. The race takes place in multiple cities in Spain, such as Valencia, Barcelona and Sevilla. So come join us or see if any of the other dates suit you better.
The course couldn't be more central nor more fascinating, taking in all the downtown sites in this short yet fun race. There is some elevation change as Madrid center is perched on a hill but nothing to worry about. The race is exclusively for women from 12 years and above. But I'll be there cheering them on like always!
FIND ALL RUNNING TOURS IN MADRID
Hola! If running and traveling are two of your favorite things, you'll love our tours of more than 60+ cities.
Check HERE. Thank me later.