The road race is among the world's fastest-growing sports, and in Brazil, especially in São Paulo, it is no different. São Paulo has more than one hundred running races throughout the year, mostly during late summer and autumn – my guess for this calendar is that we tend to begin to work on our New Year resolutions right after carnival 😉 Without a doubt, the São Silvestre (Saint Silvester Road Race) is the most traditional race, held every year on December 31 since 1925. One of our first guests has booked a running tour as part of her training for a race in São Paulo. So, thinking that we may have future guests out there willing to challenge themselves to some São Paulo running races, we put together this list;
Main São Paulo Running Races
Corrida Internacional de São Silvestre (Saint Silvester Road Race)
Date: 31 December 2023
Distance: 15 km
Time: 9:00 am
Certified IAAF Road Race Gold Label
São Silvestre is the most traditional São Paulo running race. In its first edition, back in 1925, it had 60 runners registered, but only 48 showed up. Today, the number of participants is about 30 thousand. Not only has the number of runners increased, but also its distance. It used to be less than 10 km, and from 1992 it became a 15 km race.
The 15km route goes through the heart of São Paulo. Starting and ending at Paulista Avenue it traverses São Paulo Downtown. The last 3 km are the hardest ones, not only because it is finishing but because of the 2km uphill at Av. Brigadeiro Luis Antonio. Usually, it is where the front peloton disperses in one or a couple of leading runners.
The crowd of spectators is magnificent. It is a holiday and it is in the São Paulo center, so everybody is outside cheering, enjoying the race and the city. It is a great spectacle for everyone.
São Paulo Marathon
Date: 2 April 2023
Distance: 42 km
Certified IAAF Road Race Bronze Label
In 2023, the 27th edition of the São Paulo Marathon will be held, receiving the IAAF Road Race Bronze Label. That is not the only news for this year. Its course was adjusted to reduce curves and its start and arrival are in the Ibirapuera Park. Not up to a full marathon? It has a half and a 5km course as well.
São Paulo Half Marathons
Date: 5 February 2023
Distance: 21km
Time: 7:00 am; 6:30 am
São Paulo hosts two big half marathons. In February there is the São Paulo Half Marathon and in April the São Paulo International Half Marathon. Both have the same thrilling, fast and scenic route, starting and ending at Pacaembu Stadium passing through parts of downtown and the Minhocão, a popular place for runners during the weekends.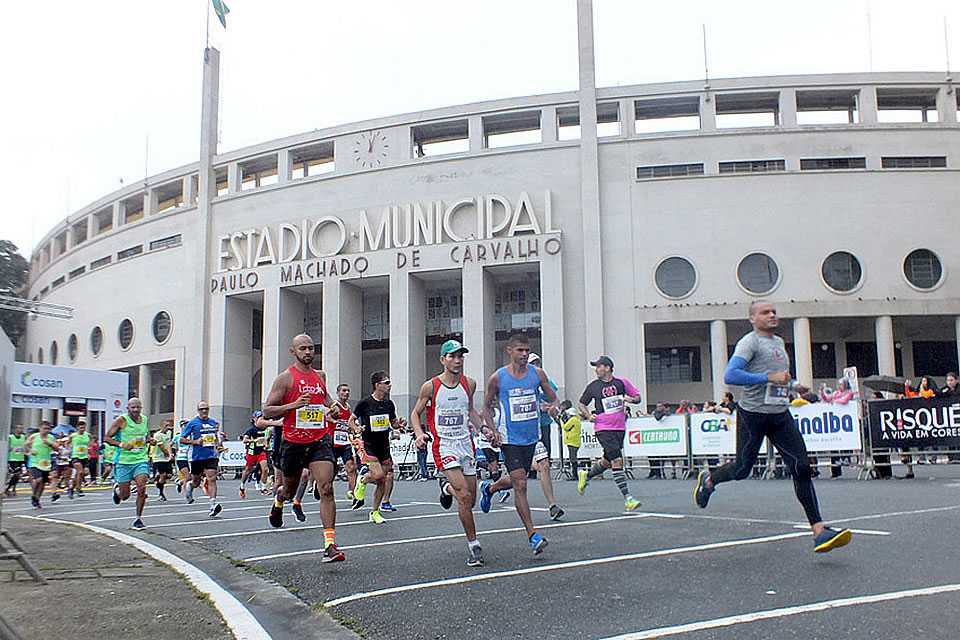 Smaller and Club Races/Series
Below is a list of Smaller and more local São Paulo running races and series;
Santander Track&Field Run Series
Date: from January 2023
Distance: from 5 km to 21 km
Time: morning and night runs
The Santander Track&Field Run Series is the largest street race series in Latin America. There are more than 60 races in more than 40 cities around Brazil. In São Paulo, this year, there are 12 races with multiple distances each, ranging from 5km to 21km. Track & Field is a Brazilian fashion sportswear brand and its running races are held in different neighborhoods with routes associated with malls where its stores are.
Grey and Green Sao Paolo Run
Date: Various
Explore both the urban and the green on this 10km guided Grey and Green Run that takes you from the Sao Paulo streets to its parks and green spaces. A good way to explore the variety the city has to offer.
Circuito das Estações (Seasons Run Series)
Date: 19 March 2023
Distance: from 5 km to 21 km
Time: mornings
The "Circuito das Estações" is a four-race series, as the name says, one for each season. This series offers 3 distances for each race ranging from 5km to 21 km. The route is similar to the São Paulo Half Marathon where you start and arrive at the Pacaembu Stadium.
Note from the author: the t-shirt in the race kit is pretty nice 😉
Athenas Run Series
Date: 12 March 2023
Distance: from 5km to 21km
Time: 6:30 am
The Athenas is a run series with three races throughout the year and progressive distances. It is ideal for runners seeking challenges offering motivation to log more mileage at each stage. The first race is near Ibirapuera Park and the others are along the Pinheiros river. Completing the three races gets you a special medal.
Night Run Series
Date: 2023 TBD
Distance: 5km and 10 km
Time: night
The Night Run is a series of night runs followed by music shows. There are 3 races with routes of 5 or 10 km each in the University of São Paulo campus. It may be the ultimate Saturday night party for the avid runners out there. Rock, pop or hip-hop whatever the rhythm the party is on.
Small local running races in São Paulo are usually a one-time thing. They come and go every year but there are always creative ideas to surprise the runners. The mix of run and beer is always present but I heard of a race you could get chocolate and cachaça, the very popular sugarcane distilled spirit.
However, two of these small races have become very popular. First is the Olga Kos Inclusion Run for runners with Down Syndrome. More than a thousand participants of the Olga Kos Institute lace their sneakers for the 5 or 10 km route together with around ten thousand people willing to join them. Then we have the EcoRace that this year will happen on January 19th. It is a 9km route in the Tietê Ecological Park located next to the São Paulo International airport. The route is mostly a gravel track along the park and runners share it with the local capybaras and coatis.
For more information on running in São Paulo, check out my complete guide here.
Happy Running
Marcio
FIND ALL RUNNING TOURS IN SÃO PAULO
Hola! If running and traveling are two of your favorite things, you'll love our tours of more than 60+ cities.
Check HERE. Thank me later.